Ediciones en inglés e italiano del libro "Democracias robotizadas" de Luis Moreno (IPP) y Raúl Jiménez
Se han publicado las versiones en inglés (Amazon) e italiano (Aracne) del libro, "Democracias robotizadas", del que es coautor el investigador del Instituto de Políticas y Bienes Públicos Luis Moreno (IPP, CCH-CSIC), junto a Raúl Jiménez.
Extractos de los resúmenes publicados por las editoriales: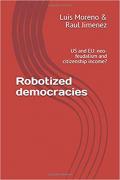 Robotization implies long-term structural changes with far reaching consequences for democracy. This fourth technological revolution (Industry 4.0) has strengthened the autonomy of corporations and has empowered technostructure. Automation and the extensive use of internet are intensifying the progressive applications of the artificial intelligence (AI) and are set to further encourage productive maximization. Eventually, these ongoing processes will make superfluous many of the existing jobs. Shall we live a democratic future as we have known it until now? Will it be different because of the technological changes under way? What repercussions will they have for human relations?
Luis Moreno (IPP) and Raul Jimenez. Robotized democracies: US and EU: neo-feudalism and citizenship income?. Published by Independently Published, United States (2018) - ISBN 10: 1729489907 ISBN 13: 9781729489901
Stiamo vivendo la progressiva robotizzazione delle democrazie occidentali, che annuncia cambiamenti profondi e strutturali di largo raggio. Questa quarta rivoluzione tecnologica, guidata dalla generalizzazione di Internet e dall'automazione, intensificherà le applicazioni progressive dell'intelligenza artificiale e la successiva massimizzazione produttiva. Alla fine, i processi in corso renderanno superfluo il bisogno di gran parte del lavoro salariato. Il volume discute di come la robotizzazione e l'intelligenza artificiale influenzeranno i processi neo–feudali negli Stati Uniti e l'inevitabilità del reddito di cittadinanza nel caso dell'Unione Europea.
Luis Moreno (IPP) e Raul Jimenez. Democrazie robotizzate. USA e UE: neofeudalesimo e reddito di cittadinanza?. Aracne editrice, 2018 - ISBN: 978-88-255-2065-1